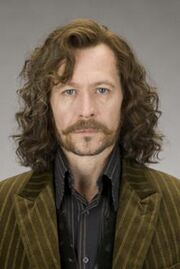 Sirius Black
, also known by his nickname
Padfoot
, was a pure-blood wizard. Sirius disagreed with his family's belief in blood purity and defied tradition when he was sorted into Gryffindor instead of Slytherin at Hogwarts School of Witchcraft and Wizardry. As Sirius' relationship with his relatives deteriorated, he gained great friendship in
James Potter
,
Remus Lupin
, and
Peter Pettigrew
. The four friends, also known as the Marauders, joined the Order of the Phoenix to fight against
Lord Voldemort
and his Death Eaters during the First Wizarding War. Sirius also became the godfather of
Harry Potter
, son of James and Lily Potter. When Pettigrew betrayed the Potters to Voldemort, Sirius sought to exact revenge on Pettigrew. However, Pettigrew was able to frame Sirius for his betrayal of the Potters, the murder of twelve Muggles, and the staged murder of Pettigrew before Sirius could accomplish this. Sirius was sent to Azkaban Prison for twelve years, eventually becoming the only known person to escape the prison unassisted, by transforming into his Animagus form of a massive black dog confused with a "Grim".